---
x
Stimulus Checks Arriving as Prepaid Debit Cards Confused For Scams
BY SAMANTHA LOCK - courtesy of Newsweek
Stimulus payments arriving in the form of prepaid debit cards are being confused for scams.
Some Americans expecting their second $600 payment are reportedly discarding the mail, believing the cards to be fake.
About 8 million Americans are set to receive their
payment as a prepaid debit card
mailed to their home address, instead of a paper check or direct deposit.
The switch may cause confusion for some, prompting the
Internal Revenue Service
(IRS) to warn the public that the second payment may be in a different form than the first.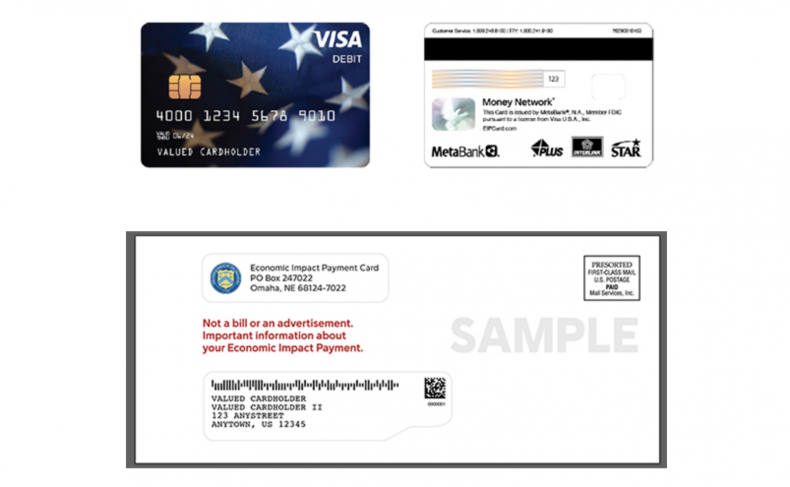 Utah resident Ty Nielsen said he had received a letter in the mail on Friday, January 22. It arrived with "economic stimulus" printed in the corner, prompting Nielson to say he was "almost positive it was a scam."
Accompanying the letter was a debit card in a nondescript envelope.
"This just looked like, it was an envelope with a big window on it and it didn't say government on it anywhere," Nielsen told KSL-TV.
When he checked with the Better Business Bureau, he was shocked to learn that it really was his stimulus payment. "I didn't quite know who to trust and I get so much junk mail," Nielsen said.
He is not alone in mistaking the payment for a scam. Britta Clark with Utah's Better Business Bureau said she had heard of many others who had thrown away their cards.
Kathy Stokes, director of fraud prevention programs at the AARP, also said people were mistaking the cards for junk mail.
"They think it's a scam and they discard it, when in fact, this is the actual economic impact payment," Stokes said.
According to the IRS and as reported by KSL-TV, those who throw away their card cannot be issued with a second payment and will need to try to claim it when filing their tax return.
Government officials urged people to keep an eye on their mail. The debit cards are set to come in plain white envelopes with a Treasury Department seal. The cards will have a Visa logo on the front and have been issued by MetaBank, which is named on the back.
"Some people who received a paper check last time might receive a prepaid debit card this time, and some people who received a prepaid debit card last time may receive a paper check," the IRS said.