Harvey W. Jaggard Jr.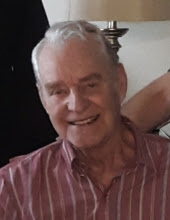 Harvey W. Jaggard Jr.
It is with deep sadness that we announce the passing of Harvey W. Jaggard Jr., age 81, from Idiopathic Pulmonary Fibrosis on Friday October 11, 2019 at the Wyoming County Community Hospital in Warsaw surrounded by his family.
He was born in Warsaw, New York on April 24, 1938 the son of the late Harvey W. and Flossie (Whitmore) Jaggard Sr.
In his early years Harvey was a paperboy, farm helper, a milkman for Hills Dairy in 1957, worked for Westinghouse
in Attica for 29 years, Town of Perry where he was a custodian and the sexton for Glenwood Cemetery for 14 years and was currently working for Perry Market Place for over 16 years. Throughout his working career Harvey also sold real-estate for the former Bennett Realty in Perry.
He was a member of the First United Methodist Church on Covington, and the Silver Lake Sportsman Club on Walker Road, overlooking Silver Lake.
First and foremost Harvey was a family man who loved his family and enjoyed hosting many large family gatherings with his wife at the family home. Harv also enjoyed attending his children's and grandchildren's school and sporting events, he loved gardening, hunting, fishing with his daughter and sons, playing bingo, camping, going to the casino, trips to Las Vegas and Florida for over 25 years with the love of his life, Sheila. For over 30 years he raised pigeons and pheasants.
He is survived by his loving wife of 62 years whom he married on August 10, 1957 in Hornell, NY Sheila (Webb), loving father to Cathy (Edward) Koziel, Harvey W. III, Robert, Steven and Scott Jaggard, Coolest grandfather to: Lianne Chappel (Mike) Cox, Stacey Jaggard Murphy, Melissa Chappel Skinner, Harvey (Heidi) Jaggard IV, Dillon (Christine) Chappel, Miranda Jaggard (Chris) Wood, Maggie Jaggard (Zach) Williams, Nicholas Jaggard, funniest great grandpa to Trevor, Isabelle, Ayden, Delaney, Stella, Gunnar, Maddox, Kayden, Carden, Luke, Pippa, Wyatt and Riley, 2 brother-in-laws: David (Shirley Grant) Mosher of Perry, Gerald Mosher of Hornell, and Aunt: Joan Saxton of Geneva, along with many nieces, nephews and cousins.
Along with his parents he is preceded in death by 2 grandsons: Phillip Chappel and Sean Jaggard who both passed in 2017, 4 brothers: Lorne and William Bennett, James and Robert Jaggard along with many other relatives.
A Celebration of Harvey's life will be announced at a later date.
(In lieu of flowers) Memorial contributions may be made to the family or to a charity of the donor's choice.